Class meets one weekend each month from November to August (Friday-Saturday); the first weekend (November) is
extended and includes Thursday.
The typical day begins at 8:30 a.m. with breakfast and continues through 5:00 p.m. A healthy lunch and snacks are included.
The day is highly experiential and follows the Kolb Learning Model.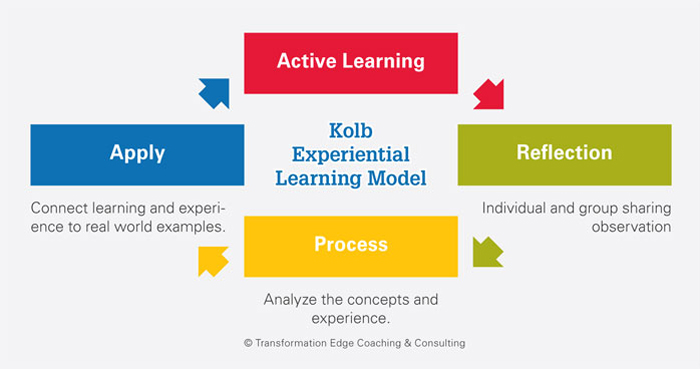 What You Will Learn
Coaching Theory and Models
Roots of coaching – influence of psychology, philosophy and social sciences
Distinctions – clarify and respect the helping roles: coaching, therapy, consulting, mentoring and training
Change model
Coaching models and evidence-based theories
The science of coaching – neurobiology
Core Coaching Competencies and Ethics
Ethical standards and guidelines that distinguish professional coaches
The three essential skills that facilitate transformation
Facilitating learning and results
Personal Development of the Coach
Use of self – developing your signature presence
Identifying blind spots and understanding your triggers
Leveraging strengths and managing reactivity
Emotional intelligence and cultural acumen
The Business of Coaching
Planning and launching your coaching practice
Marketing and selling (internally and externally)
Legal and operational practices
Assessments and coaching toolkit
Defining your niche by learning how to do

Business and organizational
Executive and leadership
Personal and career
Transition
Team and group
Other specialties
Future of Coaching
As a participant you will complete a project related to developing your coaching practice or advancing the profession.
Faculty and Panelists
Brian Alvo – Michelle Ambrose
Carol Brainard – Donna Coulson
Joe Diab – Cindy Domanowski
Maria Glenn – Susan McCandless
Horace McCormick, Jr. – Krista Moore
Divya Parekh – Jim Tedrow
Grace Thompson – Teneisha Towe
What You Will Experience
Participants form a cohort, in which each member is encouraged to listen, think deeply, and participate actively in discussions, coaching, and case study reviews. You will also experience:
Vicarious learning, altruism and camaraderie
A trusting environment that holds a safe place for learning, experimenting, and self development
Being coached you will be provided a personal coach, as well as peer coaching
Personal development and transformation
Supervision: space and support to reflect on your coaching practice
Synchronous (in-person) learning that incorporates all learning styles: kinesthetic, visual, auditory, and verbal