---
Many thanks to all participants, organizers and staff for making this symposium a vibrant scientific, diverse, inclusive and collegial event!
Quick Links:
Conference registration will be available on site
The deadlines for reservations at the Wolf Village Apartments and special hotel rates expired. The Marriott Center City still accepts reservations at their regular rate.
---
The 97th ACS Colloid and Surface Science Symposium will be held June 4-7, 2023 at the McKimmon Conference and Training Center on the campus of North Carolina State University in Raleigh, NC. It will feature more than 400 oral and poster research presentations, including two plenary lectures, two award lectures, and PhD student awards. 
The Symposium will bring together world-class speakers and an international community of researchers from a wide range of related disciplines, including emulsions, foams and dispersions, wetting and adhesion, surface forces, self- and directed-assembly at molecular and colloidal scales, surface science, nanoparticles, complex fluids, interfacial physics and chemistry, soft-matter, biology-material interfaces, environmental and energy applications and nanomedicine. In addition to the technical sessions, an optional reception is scheduled for Tuesday evening at the North Carolina Museum of Art. The Symposium will include a How-to session focused on 'Connecting the dots – startup to corporate level.'
NC State University resides in the North Carolina Research Triangle Park (RTP) area, which offers a world-class combination of educational opportunity, economic vitality, environmental quality, and quality of community life. Raleigh is a vibrant and beautiful city, with a diverse and fast-growing population. Raleigh-Durham airport (RDU) offers a large number of flights to most major destinations in the country, as well as several non-stop international flights. The airport is conveniently located at the center of the RTP and is a 15 minutes drive from the NC State campus. The climate in June is sunny and mild, so visitors can enjoy the green wooded areas, the multiple parks and lakes and many local attractions. The famous Outer Banks recreational area is a four hours drive to the East. The Smokey Mountains and the Blue Ridge portion of the Appalachian Trail are about the same distance to the West. Washington, DC is a five-and-a-half hours drive to the North from Raleigh.
We invite you to join us at this international science event to learn about the latest research and developments in the realms of Colloid and Surface Science!
Lilian Hsiao and Orlin Velev
Symposium Co-chairs
---
Thank you to our sponsors: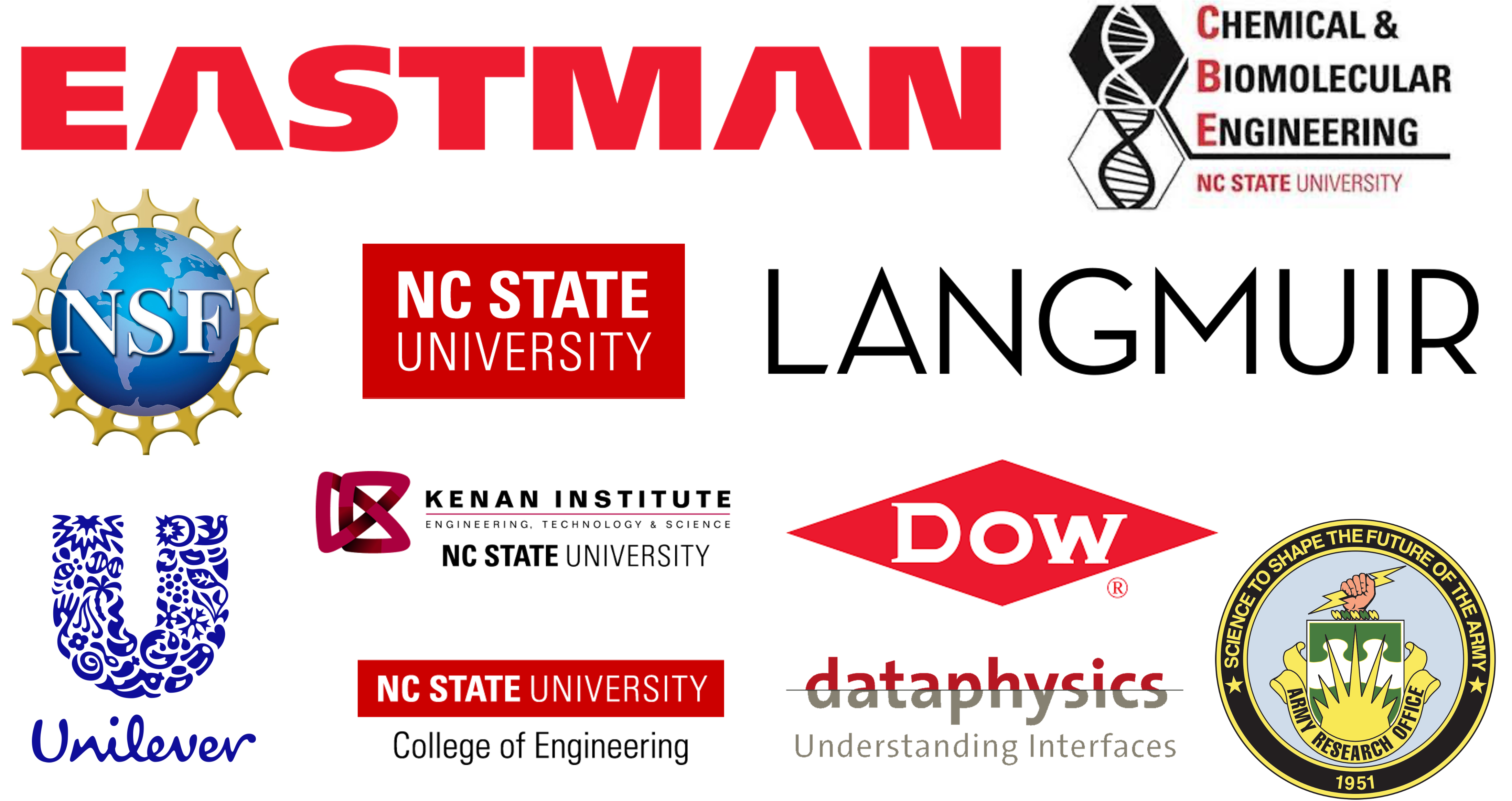 Contact us at: colloids2023@ncsu.edu